Xavier Alford Was the First to Ever Ollie a Ferrari Without a Ramp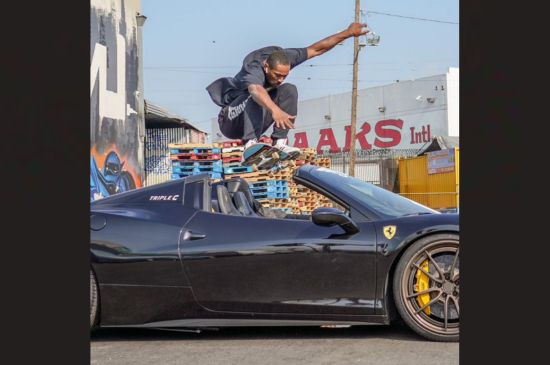 Ollieng a car was already a thing in skateboarding but with the help of a ramp. Obstacles are essential for gaining the necessary height and momentum to execute such stunts.
However, Alford was undeterred by conventional thinking and decided to rewrite the rules while still alive.
According to Dom DeLuca of Brooklyn Projects, Alford has been working hard to achieve his goals in life with his sheer ability to nail massive gaps, especially the Ferrari, which was the NBD back then.
In skateboarding, we respect the skate rats who already did the trick by avoiding the same maneuver, but for some reason, getting a clip using the same method was foul since Alford passed away, and it shouldn't be taken away from him.
Although the two-time Skater Of The Year unleashed his ollie on the same luxurious car, the core skateboard community still pays homage to the first skater to land it.
"This is a hard post to write for many reasons." DeLuca said. "Not taking away anything that anyone else has done AFTER the fact .. it's all some insane shit but it's already been done before . Multiple times by Alford."
"So let's give this beautiful human who is no longer here with us his flowers and rightfully so." He added. "Alford was always striving to be seen and recognized for his ability on a skateboard .. but what happen yesterday when Tyshawn cleared the Ferrari, which was epic .. was cheered and raised to some other level by more than half the industry."
"But it's the same industry that frowns upon anyone trying to get props by doing something that's already been done." DeLuca explained. "Yet they chose to overlook that and follow the hype. Pretty sad as that what lead to Alford's untimely death at his own hands."
DeLuca continued. "He was tired and trying and no one .. NO ONE in the industry that is supposed to be open arms to everyone and shows love to all types of people ..gave a shit or helping hand .. or a nod other than us … so after all that .. the depression took over and he's no longer here."
"He had been trying to set up .. along with us a highest Ollie contest .. which Alford holds in the Guinness Book Of World Records but people were scared to see the real deal and it didn't happen," he said.
"It's pretty frustrating to see so many of our friends and mentors going ape shit for something that's been done before .. years ago with no acknowledgement to who did it first." He exlained. "In a sport that hails NBD's as musts .. let's all remember who really ollied from flat over a Ferrari first.
He added. "Not for us .. but do it for Alford .. for his legacy as this IS HIS TRICK !!!! HIS NBD!!!"