Plan B Collaborates w/ Peruvian-Canadian Artist Chris Dyer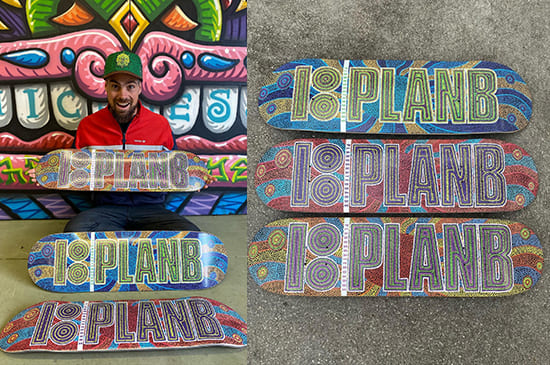 Plan B Skateboards, a well-known and respected skateboarding company, has recently collaborated with Peruvian-Canadian artist Chris Dyer.
This collaboration brings together two creative forces, combining Plan B Skateboards' mass influence on skaters with Dyer's vibrant and unique artwork.
Dyer is a highly acclaimed artist known for his vibrant and colorful paintings that often feature spiritual and mystical themes. He has exhibited his work in galleries and museums and has a large following on his official social media accounts.
The Plan B x Dyer collaboration will see the artist's artwork featured on a limited-edition line of skateboards and apparel featuring bold colors, geometric patterns, and mystical imagery.
Dyer posted. "Wow! So stoked to have a new series of graphics with the legendary skate brand Plan B! I met legendary Canadian Pro Skater Colin Mckay a couple of summers ago in California through my friend Jake Brown and eventually Colin asked me to do this series inspired by Australian Aboriginal dot work! It is now out and available on their webpage so make sure to scoop one! Yay!"
This collaboration is an excellent opportunity for both Plan B Skateboards and Dyer to showcase their talents and reach new audiences. It will also be an opportunity for fans of both brands to own unique and limited-edition skateboard decks.
The combination of the two different worlds, art, and skateboarding, will create a unique and visually striking product. Fans of Plan B Skateboards and Chris Dyer eagerly await to get their hands on these limited-edition items.
Plan B and Dyer promises to create a limited-edition line of products that will appeal to both skaters and art lovers.