Gustavo Ribeiro Receives His Second SLS Championship Trophy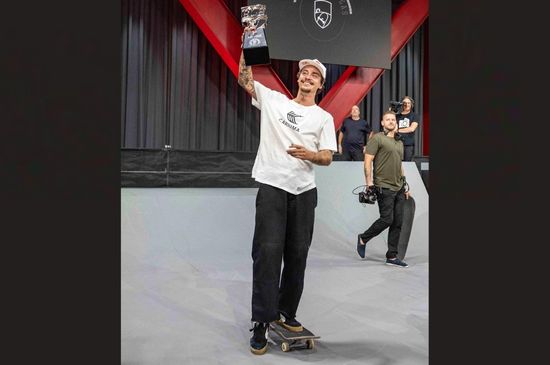 After receiving his first-ever Street League Skateboarding championship title on 28 August 2021, Gustavo Ribeiro snagged his second accolade in the 2022 Las Vegas stop.
The 21-year-old pro skater hits the contest immediately after his full recovery from eventual shoulder surgery after his recurrent shoulder injuries.
With top fan favorite Braden Hoban trying to outwit the competition, and successful contest skater Chris Joslin, Ribeiro was unstoppable.
For some reason, the professional skateboarders had difficulty landing tricks in a small venue, but they still gave their all.
Ribeiro nailed an impressive backside crooked grind to nollie varial heelflip and another one which was a kickflip out, making him the overall SLS Las Vegas men's champion.
Congratulations to Ribeiro for dominating the contest. Well deserved!
Stream the entire broadcast below, and don't forget to share it with your friends on social media. Enjoy!
2022 SLS Las Vegas | Men's FINAL | Full Broadcast