Dom Deluca Says Brands Are Wack For Never Following Skate Shops Who Buys From Them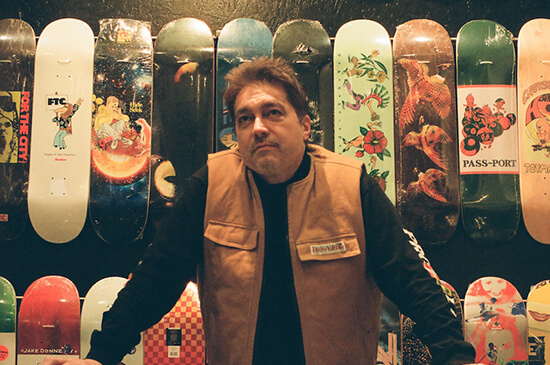 Brooklyn Projects founder Dom DeLuca has always been outspoken regarding his honor and integrity in skateboarding culture. He has now called out all the skateboarding brands who never followed the skate shops that buy their products.
"Every other week or so, I do a little catch up with a few friends that have shops across the country," the skate shop owner posted on his Instagram account. "Just checking on the retail landscape and realized that a lot of brands that we support don't reciprocate the love via social media."
"Now on the surface it might seem petty but as it's getting more challenging running a retail business you start to look at where the cracks are," DeLuca said.
He added. "Brands used to wait to drop their latest collection a few weeks after shops received it. Now they drop it the same time or sometimes a few days before it even ships to shops. They put product on sale sometimes weeks after shops get it essentially cutting us out. They push product late to us because of their logistic and production issues, and we still take it."
Here's the most ridiculous ass backward one." DeLuca explained. "Certain brands forbid a shop to post pics of product via social media even though images of the product is all over the internet! On hundreds of sites and IG accounts which help those accounts who do NOT sell the product gain traction and business via site traffic. But if a shop posts a product pic even a day early - they get reprimanded.
"The shops are the marketing platform of all these brands. We help keep the lights on for those brands. While struggling to keep ours on." He said. "We keep employees of these brands employed while struggle to keep our shop kids on schedule."
"I never made shop decks. Never had. Never will." DeLuca explained. "It hurts a brand by making a less expensive option when buying a skateboard which makes a consumer buy a shop board instead of a brand name, ultimately hurting the brand or the pro skater because he relies on board sales to make his small royalty."
"But I get why 99 percent of shops do shop boards. More profit. More promotion of their shop. I understand that and support it I just don't apply it to my business because of my beliefs." He said.
"So if you're a brand owner or rep and you are reading this. Look at the shops like my shop for instance Brooklyn Projects and see if you follow us or any other shop that has been supporting you since day one." DeLuca said.