Yuto Horigome Wins The Stop 02 of The 2022 SLS Seattle Championship Tour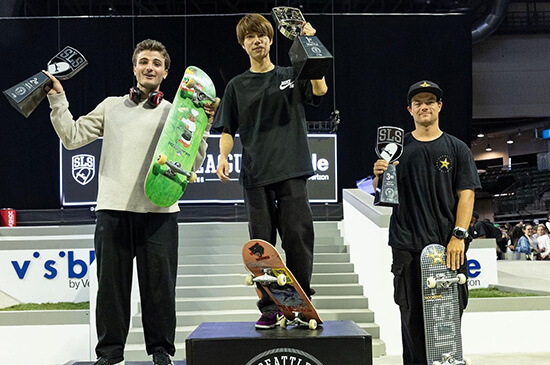 April skateboards top-seeder and skate Olympian Yuto Horigome dominated the top 8 Men's Prelim battle at Stop 02 of the 2022 SLS Championship Tour in Seattle, Washington.
One of the most insane skateboarding contests of 2022 shows how the contestants did everything they could to snag the accolade.
Hence, Horigome prevailed by doing what he loved the most, with technical blindside combos and other mind-boggling tricks he threw to ensure he received the victory.
Despite Vincent Milou's shuvit to backside smith grind and Chris Joslin's massive nollie backside 360 heelflip gap, the Tokyo, Japan native nailed the judges and audience's heart and got a 27.6 score, leading the Seattle stop.
Congratulations to Horigome for winning first place, Milou for the second, and Joslin for third place.
Stream the entire SLS broadcast below, and don't forget to share it with your friends on social media. Enjoy!