Looks Like Thrasher is Pushing Tyshawn Jones For Another SOTY Accolade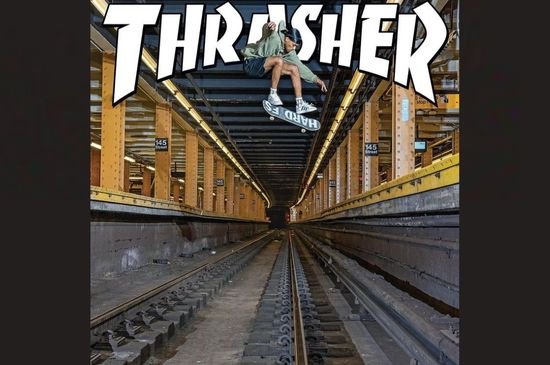 Every year skateboarders get upset about who wins Skater Of The Year. Even though the top contenders have what it takes to be the skate bible's top-tier skateboarder, no one knows who is the decision maker after editor-in-chief Jake Phelps passed away in 2019.
Many skaters were rooting for Louie Lopez when his Honor Roll part was released. However, after professional skate photographer Atiba Jefferson and Thrasher released the new magazine cover, the community went bonkers, and Tyshawn Jones is presumably the 2022 SOTY.
"It's taken 31 years to shoot my favorite skate photo and shot on Canon USA For days. Jefferson posted. "Thank you, Tyshawn, Thrasher, Tony Vitello, Burnett, and Cameron Padgett, so much love. Get me Jägermeister shot for days also, someone said the track wasn't active it was. Was coming, and I had to jump on the third rail to get out."
Skateboarding filmer William Strobek acknowledged that his close homie Jones will be SOTY 2022 and said, "Don't at me."
Who will be the next Skater Of The Year for 2022? We'll have to wait, but we will keep you guys posted.
Skater of the Year List
1990 - Tony Hawk
1991 - Danny Way
1992 - John Cardiel
1993 - Salman Agah
1994 - Mike Carroll
1995 - Chris Senn
1996 - Eric Koston
1997 - Bob Burnquist
1998 - Andrew Reynolds
1999 - Brian Anderson
2000 - Geoff Rowley
2001 - Arto Saari
2002 - Tony Trujillo
2003 - Mark Appleyard
2004 - Danny Way
2005 - Chris Cole
2006 - Daewon Song
2007 - Marc Johnson
2008 - Silas Baxter-Neal
2009 - Chris Cole
2010 - Leo Romero
2011 - Grant Taylor
2012 - David González
2013 - Ishod Wair
2014 - Wes Kremer
2015 - Anthony Van Engelen
2016 - Kyle Walker
2017 - Jamie Foy
2018 - Tyshawn Jones
2019 - Milton Martinez
2020 - Mason Silva
2021 - Mark Suciu